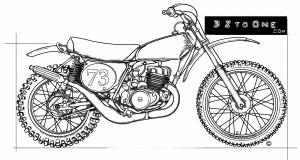 This is the drawing of a thoroughbred machine that helped Honda win their first National MX Championship in 1973.
The new bad ass 249cc oil burner motor pumped out 29HP, was mounted in a Chrome-Molybdenum frame and came equipped with 70s state-of-the-art parts that changed the history of motocross and put Japanese bikes on the MX map.
Because been a vintage motocrossers enthusiast  takes more passion than money, we want to add to this T-shirt a little claim to let people know that : "VMX ain't for posers"

Product details:
4.2 oz., 100% combed ringspun cotton. This a very good quality T-Shirt and super comfortable.
Supremely soft

superior quality

Modern, slightly fitted shape

Color: Black / Peddle Brown

Sizes run Large

Back line:

 [add_to_cart item="001″ quantity="user:1″ ]